Spain passes population milestone as deaths surpass births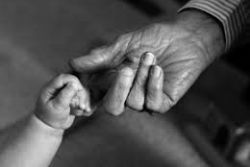 Spain, long concerned about its ageing population and emptying countryside, passed a milestone in population decline on Wednesday when it recorded more deaths than births in the first half of this year.
Deaths exceeded births by more than 19,000 in the first half of 2015, a turnaround from a year earlier when there were nearly 4,000 more births than deaths, the National Statistics Institute (INE) said.
Spain has not consistently experienced more deaths than births since its 1936-39 civil war or the 1918 Spanish flu pandemic, according to news reports. Deaths briefly exceeded births in early 1999, but demographers considered that a blip while now they see it as the start of a longer trend.
The INE predicted last year that a trend of more deaths than births would begin in 2015 and the gap would widen until 2062. It said the country's population, now numbering more than 46 million, would probably fall by more than a million in the next 15 years and by 5.6 million in the next 50 years.
Spain's population has been shrinking since 2012 due to net migration as recession and high unemployment encouraged people to seek better prospects abroad. Demographers say the crossover of the birth and death rates could accelerate the decline.
An exodus from the countryside has also left many small villages abandoned or with shrinking elderly populations.
Spain, one of many European countries facing a shrinking workforce and increasing burdens on its social security system, has the 10th oldest population in the world, with an average age of 43.2 years.
That is projected to move up to fourth oldest, with an average age of 50.1 years, by 2030, according to a United Nations report in July.
The country's large elderly population could play a significant role in the Dec. 20 general election, for which centre-right PM Mariano Rajoy has courted old people's votes by protecting pensions.
Europe is the continent most affected by an ageing population. The U.N. said 34% of its population would be over 60 years old by 2050.
Increased immigration could help reverse the trend and hundreds of thousands of people fleeing Syria and other war-torn states have been flocking towards Europe. The EU struggled to agree a plan to share out just 120,000 of them.
Recommended Reading :
* 50% fewer Expat Brits consider their move permanent
* UK and Spain grant most EU Citizenships