Spain's ruling party seen winning election but well short of majority - poll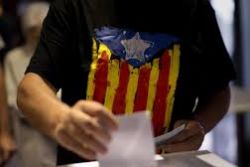 Spain's ruling Partido Popular will win a Dec. 20 parliamentary election but fall short of a majority, according to a closely watched official poll which also showed a leap in support for a new reformist party that may play the role of kingmaker.
PM Mariano Rajoy is struggling to shore up support for his centre-right People's Party (PP) after a four-year term marked by a crushing economic crisis, unpopular austerity measures and unemployment of more than 20%.
Hard times and disgust with corruption in high places have fuelled the rise of new parties - the liberal, reformist Ciudadanos (Citizens) and the left-wing, anti-austerity Podemos (We can) - breaking the mould of a political system long dominated by the PP and the Socialists.
The PP came out on top in the latest survey published on Thursday by the Sociological Research Centre (CIS), polling 28.6%, slightly down from 29.1% in the last CIS poll at the start of October.
The PP would win up to 128 seats in the 350-seat Spanish parliament if the election were held today, the survey showed, well short of the 176 seats needed for a majority and of the 186 seats it won in the 2011 parliamentary election.
Ciudadanos, led by Albert Rivera, a charismatic 36-year-old from Catalonia, is seen winning 19% of the vote, the survey showed, up from 14.7% in the last poll.
This would give the new party up to 66 seats in parliament, potentially casting it as kingmaker and vying with the Socialists to be Spain's second political force.
However, 1 in 3 voters surveyed by CIS either refused to give their preference, were undecided or planned to abstain. That, together with the transformation of Spain's political landscape, make predicting the election outcome very difficult.
Rivera has said that, if his party does not win, he would not join a coalition with the PP or the Socialists, but he has been cagey about whether his party could abstain in a confidence vote, allowing another party to form a minority government.
The CIS poll showed Socialist support falling to 20.8% - enough to give them up to 89 seats in parliament - from 25.3% in the early October poll.
Podemos, led by pony-tailed academic Pablo Iglesias, 37, and its regional affiliates would receive about 15.7% of the vote, giving it up to 49 seats in parliament, the poll showed, although the anti-austerity party's popularity has slipped from earlier highs.
The election campaign begins at midnight on Thursday with the traditional hanging of election posters.
The CIS poll was based on 17,452 interviews conducted between Oct. 27 and Nov. 16.
Recommended Reading :
* Spain's Rajoy stays away as candidates hold election debate
* Three-way tie seen in Spain's vote as Ciudadanos gains ground