Spanish PM rejects pacts while rivals discuss constitutional reform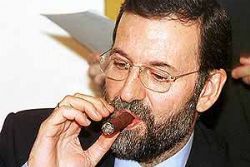 Spanish PM Mariano Rajoy has criticized the offer of Socialist party (PSOE) leader Pedro Sanchez to offer a three-way pact with the Citizens (Ciudadanos) and Podemos parties to set up a "program in common" if the PSOE win the Spanish general election on Dec. 20.
Speaking on the La Sexta (Channel 6) network in Spain, he insisted Spain "did not have good experiences of coalition government," saying the "most democratic thing" was for the party which won the most votes to try and form a government.
Opinion polls in Spain predict an election win for Rajoy's People's Party (PP), but for them to fall well short of a majority and with the need to either pact with the PSOE or Citizens in order to govern.
Rajoy was cagey over whether he would try and form his own pact with Citizens, saying "we will see what happens," and also avoided the issue of whether he would be prepared to step down to allow deputy Prime Minister Soraya Saenz de Santamaria, who is becoming an increasingly public face in the campaign, to take over the party leadership if that was a condition imposed by Citizens' leader Albert Rivera.
>[?"There will be a female PM in the future, but I hope it is after my second term in office," said Rajoy, who also discussed the threat of terrorism, although he refused to take any position on the issue of helping France, saying that no concrete proposals had been put forward, but that if France did request help, he would talk to other parties and take any decision to Parliament.
Other party leaders celebrated the day of the Spanish Constitution by asking for constitutional reform, with Sanchez saying "reform was an opportunity" to help Spain face new challenges such as combatting inequality, problems with electoral reform and with the Catalan region.
Podemos leader Pablo Iglesias highlighted the importance of the 1978 agreement, saying he was "proud of the pact our grandparents made," but saying "it will be an honor to say, Thank you 1978, hello 2016."
Recommended Reading :
* Spain's National Court allows Police to counter sedition attempts
* Spanish PM agrees to reform constitution if he wins re-election