Brussels Slams Spain's 'White Elephant' projects (Including Corvera)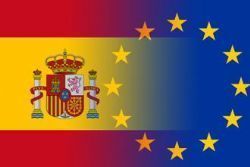 The European Commission has sharply criticized Spain's transport infrastructure policies, particularly its AVE high-speed rail network and toll road franchises.
"There is a risk that the new high-speed lines will not generate sufficient revenue," it says in a report on the country to be published this week, accusing the government of continuing to build roads "in areas with little traffic."
The EC also wants to see regulatory changes to correct "deficiencies" in the government's strategic infrastructure plans.
In mid-2012, the government requested a bailout for the country's banking system, borrowing almost €40 billion from the European Central Bank (ECB). Even though the transaction was a success, the EC will continue to monitor the Spanish economy until most of the money is paid off.
In general, the EC's report on Spain is positive. Officials point out that the economy is on the road to recovery, the banking system has improved, and that there is a "low risk" that Spain will fail to meet its repayment schedule for the bank bailout.
But the report also highlights "significant challenges." Brussels wants to see more reforms, particularly in the labor market, and holds doubts about whether the country can meet its fiscal targets without more "adjustments"
European officials are also concerned about the banking sector's ability to survive external shocks.
But the main criticism is focused on the current government's transport infrastructure policies.
"Madrid has given priority to geographic cohesion rather than improving efficiency," the report states. "Investment policy has focused more on extending infrastructure rather than on the costs of maintaining it."
The report also states that the Spanish government has favored an extensive passenger transport network over a rail service that could improve the movement of goods and provide better connections to export markets.
Many experts in Spain share similar views to those expressed in the report.
Brussels is also critical of Spain's toll-road policy, saying that it favors large businesses that keep profits when projects are a success and call on the government for bailouts when they fail.
After searching for years for a solution based on bringing eight non-performing toll roads together under a public agency and restructuring their €3.5 billion debt, the Spanish taxpayer will now have to pick up the tab.
This is because the roads were built by private construction companies that used the state as a guarantor to take out bank loans. The investment that was required to expropriate adjoining land and build the roads was expected to be recovered through long-term concessions.
Recommended Reading :
* Murcia allocates budget to Corvera Airport
* Murcia's San Javier Airport numbers down on Corvera confusion