Spain arrests man accused of recruiting fighters for ISIL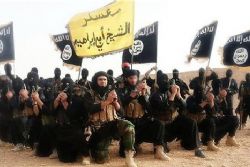 Spanish police on Saturday arrested a man suspected of recruiting young fighters for Islamic State in the North African enclave of Ceuta, the Interior Ministry said.
The Spanish territory on the Moroccan coast has been a focus of anti-terror investigations this year.
"Spanish police began investigations after seeing a number of young people from Ceuta leaving for Syria," the ministry said in a statement on Saturday.
The Spanish man, 34, was indoctrinating vulnerable young people and helping them to travel to conflict zones to join the Islamic State, the ministry said. It gave no details of ages or the number of people known to have left Ceuta, a small territory that has become a hotspot for migration to Europe.
In March, Spain said it had dismantled a militant Islamist cell in the enclave that it said was ready to attack either Spain or other targets in Europe.
Spain is among a number of European countries struggling to deter young Muslim citizens from becoming fighters in Syria or Iraq, fearing they might return to plot attacks on home soil.
It has stepped up its efforts to stop citizens joining Islamic State since the fatal gun attacks at the French magazine Charlie Hebdo at the beginning of the year and attacks in Paris Nov. 13.
Spanish security forces have detained more than 100 suspected militants this year.
Recommended Reading :
* Thousands rally in anti-war and terror protest in Spain
* Spain arrests three suspected Jihadists