Landmark Benidorm tower up for sale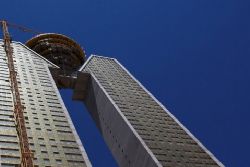 Europe's tallest residential skyscraper, the In Tempo building in Benidorm (Alicante), is going on sale.
A courthouse has approved a liquidation plan drafted by the builder, Olga Urbana SL, which filed for bankruptcy before completing the landmark structure.
The project was started at the height of the property boom in a city that has come to represent all the excesses of real estate development on the Mediterranean coast.
The twin towers with the connecting cone started going up in 2006, but were plagued by troubles from the beginning.
For one thing, the architect forgot to add a proper elevator shaft for the 47-story skyscraper when the project was expanded from the original 20 floors.
Until the first 23 floors were built, it did not occur to managers to set up a freight elevator for the 41 workers who had to trek up and down the stairs carrying equipment in their arms.
And in another widely reported incident, 13 workers were injured when the freight elevator that was finally constructed collapsed. The ambulances were unable to access the site because no vehicle entrance had been built in order to save money.
In December 2012, with 94% of the building completed and 35% of units sold, Spain's so-called "bad bank," the Sareb, announced that it was taking on the loan that a savings bank had extended to the developer. Other creditors include Banco Sabadell and Abanca.
But even that has not been enough to save In Tempo.
Now, interested parties have four months to come forward with an offer. While there is no official asking price, the building has been assessed as worth €90 million.
Recommended Reading :
* Teenager killed in Spain amusement park accident
* Another Tourist injured at Benidorm theme park