Spain Plans First Auction for Renewable Energy in 3 Years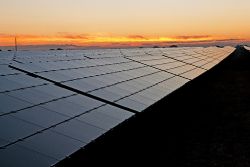 The shorts are targeting one of Wall Street's best known short sellers.
Bearish investors have piled on bets against a reinsurer started by hedge fund manager David Einhorn as the company's losses climbed. Short interest on Greenlight Capital Re Ltd., or bets that the stock will drop, climbed to the highest since 2009, at 5.4% of shares outstanding, according to Dec. 15 data compiled by Bloomberg and Markit Ltd. Short sellers are also targeting Dan Loeb's Third Point Reinsurance Ltd., holding 3% of shares outstanding, compared with an average of 0.6% since the start of 2014.
The money managers helped build the reinsurers and took them public years ago, partly to expand their investment portfolios. But the firms also created a trading opportunity for short sellers who are seeking to guard against losses in their hedge fund holdings, Ken Billingsley, an analyst at Compass Point Research & Trading, said by phone. And investors who bet against the stocks lately are glad they did, as the companies have been pressured by both faltering investments and insurance underwriting losses.
"The way the model is intended to work has not worked out in their favor," Billingsley, who has a buy rating on Third Point Re, said of the reinsurers. "It's a double whammy. You're losing money on the assets-and-investing side of the portfolio. You're losing money on the risk-taking, the insurance side of the business. It's obviously not conducive to generating good returns for shareholders."
Consol, Gold
Einhorn made his fame as a short seller by betting against lender Allied Capital Corp. for years and then Lehman Brothers Holdings Inc. before the investment bank's 2008 collapse. Now his main hedge fund is poised to post only its second losing year in almost two decades, after dropping 21% through November on losses tied to SunEdison Inc., Consol Energy Inc., Micron Technology Inc. and gold.
Greenlight Re, which counts on Einhorn to oversee investments, has plunged 45 percent this year to close at $18 Tuesday. That compares with $19 a share in the Cayman Islands-based company's initial public offering in 2007. Brian Ruby, a spokesman for Greenlight Re at ICR, and Third Point Re's Manoj Gupta declined to comment.
Loeb's reinsurer is down 6.5% since Dec. 31 after slumping 22% in 2014. The Bermuda based-company just had its worst period since its 2013 IPO as the third-quarter loss widened to $195.7 million from $6 million.
Third Point Re was hurt in recent months by declines of holdings including Yum! Brands Inc., the owner of the KFC, Pizza Hut and Taco Bell chains. Loeb, who's known for activist campaigns that push corporate boards and chief executive officers to realign their firms, has recently been citing his bets that some stocks will fall. He said in November that he has more short wagers on individual companies than long ones as some firms have gotten sloppy with accounting practices.
Investors who trade the reinsurers' stocks could be at risk if they think they're getting a simple route to bet on a gain or loss in the affiliated hedge funds, said Brian Jacobsen, chief portfolio strategist at Wells Fargo Advantage Funds.
"People always have to watch out for the short squeeze," where stocks jump and investors have to close out their positions betting on a decline, he said. "It can be triggered by just about anything, when you have high-profile individuals at the helm of these companies."
Investors who use the stocks to bet on gains by hedge fund managers are also getting exposure to the reinsurance market, where companies take on the premiums and liabilities of primary insurers. Industry returns have been squeezed in recent years as more Wall Street investors pour in, seeking wagers that aren't correlated with financial markets.
"I think there is just going to be a relentless pressure now almost everywhere on margins," Third Point Re CEO John Berger said in a Nov. 4 conference call. As for investments, Loeb's hedge-fund firm, "Third Point LLC, has a fantastic track record over a more than 20-year history, but even they are not immune to broader market movements."
Recommended Reading :
* Spain's Gov't approves the sun tax
* Spain to tax consumers who store their own renewable energy