Spanish PM Rajoy Punched in Face Whilst Electioneering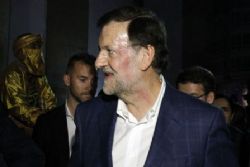 Spanish Prime Minister Mariano Rajoy received an early election knock after being punched whilst electioneering in his home region of Galicia.
Rajoy, who is expected to win a second term in Government this weekend, was on a walk about in Pontevedra, Wednesday evening, meeting and greeting locals when a young man launched the surprise hard left hook into the prime ministers face.
The yet to be identified young man, reported to be 17 years old, was quickly wrestled to the ground and arrested by Rajoy's own security entourage.
Clearly dazed by the attack, which almost knocked him to the ground, the PM appeared to shrug off the incident and continue his walk around, although with some urgency, sporting a huge red mark to the left side of his face and missing his glasses.
A video of the incident can be viewed here or to the right of this article. Viewer discretion is advised --->>>
Since coming into office in a landslide 2011 general election, Rajoy has had to deal with the fallout of the global financial crisis which all but bankrupt Spain, but also had to handle an endless stream of corruption scandals within his own political party, the Partido Popular or People's Party in English.
Rajoy himself faces allegations of corruption after being named by Luis Barcenas, the disgraced former PP treasurer.
Barcenas alleges Rajoy received several undeclared cash payments out of party funds received under the table from companies bidding for lucrative public contracts, although investigations into the allegations have been quiet of late.
Mariano Rajoy and his party have become hugely unpopular since coming to office. His expected win in this weekend's general election is unlikely to yield a parliamentary majority, signalling a coalition government maybe on the horizon for the first time in Spanish politics.