Voting underway at tightest elections Spain has ever seen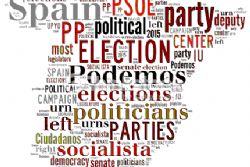 Spaniards are going to the polls in the country's most important general election in a generation this Sunday.
For the first time since Spain embraced democracy in the late 1970s following the Franco dictatorship, two emerging parties are posing a serious challenge to the two groups that have dominated national politics since then, the Socialists (PSOE) and the conservative Popular Party (PP).
Newcomers Podemos, led by Pablo Iglesias, and Ciudadanos, headed by Albert Rivera, are both expected to take a sizeable number of seats away from Prime Minister Mariano Rajoy's PP – which is forecast to lose its absolute majority – and Pedro Sánchez's PSOE in the 350-member Congress. The result will be a fragmented scenario that will force the winner to reach long-term deals with other groups in order to govern for the next four years.
With a high turnout of around 80% expected and a large proportion of undecided voters, the only certain thing about Spain's 12th general election since the restoration of democracy is that it will dramatically change Spanish politics.
Recommended Reading :
* Rajoy rejects notion of great coalition with Socialists
* A Guiri's guide to the Spanish eletions