Forest fires sweep northern Spain despite winter rain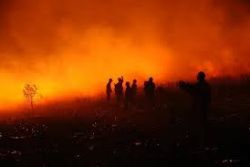 Dozens of forest fires raged across northern Spain on Sunday after strong winds hindered efforts to keep them from spreading, forcing some homes to be evacuated in the worst-affected Asturias region.
More than 100 fires were still burning on Sunday morning in Asturias alone despite rain overnight in some areas, emergency services said.
Television pictures showed several rural houses destroyed by fire but officials said there had been no reports of casualties or damage to villages or towns. Some residents were told to leave their houses as a precaution.
Spain is prone to wildfires in summer, especially in the more arid southern regions and along its Mediterranean coastline. But such incidents are unusual in winter, especially in rainier northern regions including Asturias.
Fires were also reported in neighboring Cantabria, also on Spain's northern coast, and close to the city of San Sebastian, in the Basque Country.
Regional officials and police are investigating the cause of the fires, local media reported.
Recommended Reading :
* Spain's 4th hottest year on record
* Climate change threatens Spanish tourism