European stocks hit by pain in Spain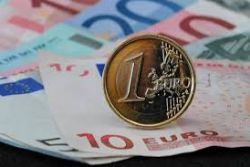 European shares fell on Monday, giving up their earlier gains as losses in Spain and a rise in the euro weighed on the region's stock markets.
The pan-European FTSEurofirst 300 index ended down 1.2%, while the euro zone's blue-chip Euro STOXX 50 also declined by 1.5%.
Britain's FTSE 100 fell 0.3% and Germany's DAX retreated 1%.
Spain's IBEX equity index was the worst performer, falling 3.6% after an inconclusive Spanish election result, while Spanish 10-year government bond yields also hit one-month highs after the election.
Shares in Spanish banks fell sharply, with Caixabank dropping 7.4% while Santander shed 4.9%.
Neither PM Mariano Rajoy's conservatives nor left-wing parties won a clear mandate to govern in Sunday's poll, casting further uncertainty over the outlook for Spain's reform programme and broader economy. Talks on forming a coalition government are expected to take weeks.
"The Spanish election has added to some year-end nervousness among investors," said Caroline Vincent, European equities fund manager at Cavendish Asset Management.
A rise in the euro against the U.S. dollar also weighed on European shares, since a stronger euro can make it harder for European companies to export goods overseas.
The dollar fell against the euro after data from the Chicago Federal Reserve suggested the U.S. economy grew at a below average pace in November before the Federal Reserve raised interest rates last week.
Some fund managers remained relatively upbeat on the prospects for European shares next year, in spite of political uncertainty in countries such as Spain and Greece.
The FTSEurofirst and Euro STOXX 50 are both up around 2% since the start of 2015, with economic stimulus measures from the ECB having helped support stock markets in spite of headwinds such as a slowdown in China and the challenges in Spain.
"I would not expect Spain to outperform, but I do not expect this to damage the European equity story," said Kevin Lilley, fund manager of the Old Mutual European Equity Fund.
"Europe is benefiting from several stimuli: European Central Bank quantitative easing, the lower euro which helps exports, and the lower oil price which puts money in consumers' pockets."
Recommended Reading :
* EU calls on next Spanish Gov't to extend economic reforms
* Spain's Rajoy vows to cut tax, create jobs if re-elected