Spanish company launches solar vehicle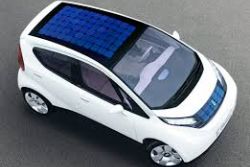 A Spanish company from Malaga in southern Spain, Evovelo, has launched a solar vehicle, Spainís news agency EFE reported on Sunday.
The car, called Mo, has two seats and it was designed for cities because it reaches a top speed of 50 km per hour and has a range of 50-90 km.
The vehicle needs two to three days of natural light to be fully charged thanks to the solar panels on the top, the director of Research, Development and Innovation, at Evovelo, Gonzalo Chomon, told EFE.
If there is no natural light, the vehicle can be plugged into the electric current and within an hour its battery can be 90% charged. Also, between 70 and 80% of Mo is made up by sustainable materials and it does not consume non-renewable resources such as gasoline or diesel.
The design of this 2-meter-long car combines the comfort of a car with the environmental benefits of an electric bike. Maintenance costs are low.
Recommended Reading :
* Spain's car sales rise by 20.9% in first 11 months
* SEAT admits manufacturing 700,000 cars with VW's rigged engines