Top prize in Spanish Christmas Lottery goes to Almería town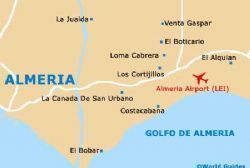 The number of the winning ticket in this year's El Gordo Christmas Lottery is 79140.
The lucky five-digit figure corresponding to the top €4 million prize was sung out by two children from San Ildefonso school at 12.13pm in Madrid's Teatro Real opera house on Tuesday.
All prize-winning tickets were sold entirely in Roquetas de Mar, in the Andalusian province of Almería.
By 1pm the Roquetas lottery outlet that sold the winning number was overflowing with people who had come to celebrate.
While many of the tickets were bought by local residents, some also made their way to Málaga and the Canary Islands.
Every number is divided into 10 identical segments, or décimos, costing €20 each. Because numbers are also divided into series, there are in fact 1,600 tickets with the same number sold at lottery sales points across the country, making it impossible for one person to buy them all.
Many people buy even smaller stakes in several décimos to increase their chances of winning something. A €1 stake in the winning number is worth €20,000, while a €20 décimo pays out €400,000 before taxes.
"Some were sold to tourists, and a décimo or two went to the Canary Islands," explained the Roquetas lottery outlet manager, José Martín, speaking up through the din.
Schoolchildren sing out the prize-winning lottery number.
Martín sold 346 décimos at the sales window, while another 800 were purchased by a high school in Laujar de Andarax, in the Alpujarra area of Almería.
According to principal David Ortiz, the school then resold 784 décimos throughout the town to fund the older students' end-of-year trip.
The second prize, worth €1.25 million, was called out just a minute into the draw, and went to number 12775, parts of which were sold by licensed vendors in Seville, Alicante, Logroño, Mora (Toledo), Córdoba and Granada.
People holding winning numbers may cash in their tickets as early as Tuesday afternoon.
Recommended Reading :
* Countdown to Spain's El Gordo lottery draw
* 220 People claim ownership of lost lottery ticket worth EU47 Mln