35 African migrants win Spain's El Gordo lottery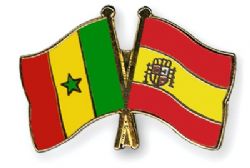 A group of African migrants, at least one of whom survived a shipwreck and was saved by the coast guard, won about 400,000 euros each as part of Spain's Christmas lottery, reported Almeria local media. The tickets were bought at the southern coastal city of Roquetas de Mar, where about 1,000 total were sold.
A Senegalese man named Ngagne told Radio Onda Cero that he and his wife had been saved by the Spanish coast guard in 2007, when their overcrowded boat was heading from Africa to the Canary Islands.
''I want to give thanks to Spaniards and the Spanish government for rescuing me when I was in the sea,'' Ngagne said.
The owner of the agency that sold the winning tickets told the daily La Voz de Almeria that about 35 African migrants had won.
Recommended Reading :
* Top prize in Spanish Christmas lottery goes to Almeria town
* Countdown to Spain's El Gordo lottery draw