Spain's Socialists face hard choices in aftermath of inconclusive election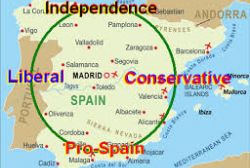 Spain's Socialists face a tough choice of allying with a rival party or triggering a new ballot after an inconclusive election on Sunday plunged the country into political uncertainty.
Neither option is attractive because linking up with anti-austerity Podemos ("We Can") could divide the Socialists while they could be accused of destabilizing Spain if they are blamed for forcing new elections.
P< Mariano Rajoy's center-right People's Party (PP) won most votes in Sunday's election but fell way short of a majority as left-wing Podemos and another newcomer, centrist Ciudadanos (Citizens), ate into the support of the PP and the Socialists, who between them have ruled Spain for most of the four decades since the end of the Franco dictatorship.
The result leaves Spain facing weeks of difficult talks to try to form a government and has unsettled financial markets.
Rajoy, who has the first chance to form a new government, has limited options. It is virtually impossible for him to stay in power without the support of the Socialists, or at least their abstention, in a parliamentary vote on a new government.
In a clear appeal to the Socialists, but without naming them, Rajoy said on Monday he would talk to parties that shared some of the aims and values of the PP.
"Spain cannot allow itself a period of political uncertainty that squanders the progress that...has been achieved in the last two years," Rajoy said, referring to Spain's recovery from a deep recession and financial crisis.
A prominent Socialist leader, Susana Diaz, rejected his overture on Tuesday, saying the party must keep its word and vote "emphatically no" to a new PP government.
Allowing the PP to stay in power could alienate left-wing voters who oppose austerity measures introduced by the PP in response to the financial crisis.
GREEK PARALLELS
The Socialists, already hemorrhaging support to Podemos, are well aware of what happened in Greece, where the once powerful center-left party Pasok was damaged by joining a coalition led by the center-right New Democracy in 2012 and saw its support plunge, while left-wing Syriza got into power.
"We think (the Socialists) will keep in mind what happened to the center-left in Greece," Deutsche Bank analysts said in a note, saying such a "grand coalition" was unlikely.
Business-friendly Ciudadanos has said it would abstain in a parliamentary vote, allowing the PP to govern, but that would not be enough for the PP.
That leaves the Socialists with two options - trying to form a left-wing coalition with Podemos and Catalan nationalists or admitting defeat and consigning Spain to new elections.
The Socialists, who last held power from 2004 to 2011, have kept silent about what they would do if Rajoy fails to form a new government.
Their leader Pedro Sanchez, under pressure because of the 1.5 million voters who have abandoned the Socialists since 2011, was the only one of the main party leaders who did not speak to media on Monday.
But Podemos leader Pablo Iglesias is insisting on a Catalan independence referendum as a condition for a deal, which would be difficult for the Socialists to agree to.
Carlos Barrera, a politics professor at Navarre University, said the Socialists would face opposition, especially from within the party, no matter which option they chose.
If the Socialists ally with Podemos, they run the risk of being gobbled up by the fast-growing new party and losing leadership of the left, he told Reuters.
If, on the other hand, the Socialists allowed a minority PP government to stay in power, it would run counter to their campaign message of forming a government of change, he said.
Pro-independence parties in Catalonia struck a deal on Tuesday to form a government, reviving a separatist drive just as Spain faces weeks of uncertainty at a national level following the inconclusive general election.
Recommended Reading :
* Ruling PP wins Spain elections
* Rajoy will seek support of Ciudadanos and Socialists to form Government