El Corte Inglés takes on Amazon with two-hour online delivery service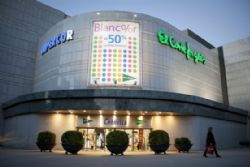 El Corte Inglés, Spain's leading department store chain, is to offer a two-hour delivery service for online purchases in a move that will challenge the growth of Amazon, the US internet-based retailer that is rapidly expanding its presence in Europe.
The service, which began earlier this month and is the only initiative of its kind by a Spanish retailer, will only be available in six Spanish cities for the moment: Madrid, Barcelona, Valencia, Málaga, Seville and Bilbao.
Not everything El Corte Inglés sells will be available on the express delivery service, but it will include fashion, electronic goods, leisure, and even some smaller household appliances.
Amazon already offers same-day delivery in Madrid, while in some cities in the United Kingdom it offers a one-hour service.
El Corte Inglés says it aims to roll out the express delivery service to the rest of Spain over the coming months.
Established in 1940, the distribution chain is Europe's largest, and the fourth biggest in the world, but it faces mounting competition from online retailers in the United States, China, and the rest of Europe.
Like Spain's other giant retailer, the Inditex group, which owns high street fashion retailer Zara, El Corte Inglés provides no figures for its online sales, but notes that its website received 227 million visits in 2014, and has 4.7 million registered users. It has recently set up an online site for sales outside Spain and says it intends to launch a digital platform to sell Spanish-made goods to the Chinese market.
Recommended Reading :
* El Corte Ingles requests streamlined visas for Chinese tourists
* Amazon launches Supermarket delivery service in Spain