Corvera Airport : 3.5 Million Passengers by 2025 ?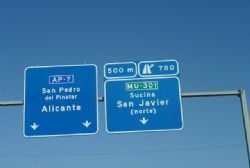 The business plan for the operation of Corvera Airport put forward by the Regional Ministry of Development has estimated that the facility will serve a total of 3.5 Million passengers per year by 2025.
The report also suggested a figure of 2.5 Million as a worst-case scenario.
This gives an average of three million passengers a year - three times the number of passengers using Murcia's neighbouring San Javier Airport at the moment.
The Minister of Development admitted that the Regional Government has considered a number of different 'solutions' concerning how to bring the facility into operation but that the current formula 'was the most appropriate'.
There is believed to be currently 7 airport operators, including AENA, who have expressed an interest in bidding for the new contract to operate Corvera Airport.
Of the seven, 5 will submit bids based on the understanding that San Javier will close before operations at Corvera can commence, while 2 have agreed to retain a degree of flexibiity with regards to the status of the older facility.
Of the seven companies, 5 are European, 1 is American and 1 North African.
Recommended Reading :
* Murcia allocates budget to Corvera Airport