Spain's Socialist leader rules out pact with right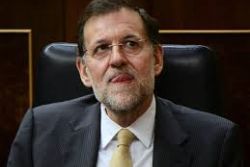 The leader of Spain's opposition Socialist party, Pedro Sanchez, ruled out a pact with the ruling People's Party during a visit to Portugal on Thursday to study its leftist coalition government's success in booting out a right-wing leader.
The centre-right People's Party (PP) failed to win a majority of seats in last month's indecisive general election and its return to government is dependent on forming a German-style grand coalition with the second-placed Socialists to break the political deadlock.
"We say no to a grand coalition between the PP and the Socialists, and we say yes to a government that brings together all the progressive forces that want to change Spain and repair the damage the right wing has done over the last four years," Sanchez told a news conference in Lisbon.
Socialists and hard-left parties in neighbouring Portugal joined forces in November to oust a centre-right government which had won the most votes in an October election but had also lost its parliamentary majority.
"What is clear is that when the forces for change join together the people reap the benefits, and Portugal's government is the best evidence of this," Sanchez said after meeting Prime Minister Antonio Costa.
Sanchez's PSOE lost much of its support to the anti-austerity party Podemos in the election, but the two might be able to form a coalition along with small regional parties to oust acting Prime Minister Mariano Rajoy's PP.
However, matters are complicated by Podemos' support for a referendum on independence in Catalonia, which the Socialists have said is unacceptable.
Earlier on Thursday, Alberto Rivera, leader of the newcomer centrist party Ciudadanos, dismissed comparisons of the Spanish political situation with Portugal because of the Catalan issue.
"As far as I know, there is no party in Portugal that wants to break up Portugal. In Spain, there are parties that want to to break up Spain," he told reporters at the parliament in Madrid.
Rivera, whose party failed to secure enough seats to play a king-maker role, suggested a minority government might be the answer.
Recommended Reading :
* Rajoy : "I will be the candidate if new elections are held"
* Rajoy will seek the support of Ciudadanos and Socialists to form Government