Spain's Podemos Urges Royal Family to Cancel Riyadh Visit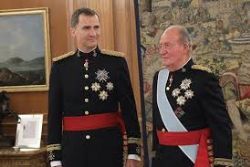 The Spanish Podemos party demanded Friday that the country's government and the Royal Family cancel the King's and the Queen's upcoming visit to Saudi Arabia over the concerns for human rights in the country.
The party does not see it as "reasonable" that an institution such as the country's monarchy, "supposedly neutral and which should promote values shared by the Spanish citizens," make an official visit to a country like Saudi Arabia, "where women suffer systematic discrimination on a daily basis…, the defenders of human rights suffer continuous repression" and where acts which should be subject to concern and condemnation are taking place, the statement said.
British PM David Cameron postponed his planned visit to Saudi Arabia until March at the earliest.
Podemos reminded of the execution of 47 people, including top Iranian Shiite cleric Sheikh Nimr al-Nimr, earlier this month.
The incident has triggered tensions with Iran and other countries, which "threatens to destabilize even more the region mired in violence, war, and instability," the statement said.
Felipe VI previously visited Saudi Arabia in 2011 and 2015 to attend funerals of Crown Prince Sultan bin Abdulaziz and King Abdullah bin Abdulaziz.
Recommended Reading :
* Former King's Ferraris to be auctioned off in Spain
* King Felipe warns Catalan leader that respecting the law is unavoidable