Catalonia's acting head Mas steps down as pro-independence leader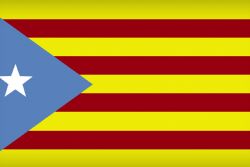 Catalonia's acting head Artur Mas said on Saturday he would step down in order to clear the way for the formation of a pro-independence Catalan government after 5 years driving the separatist movement in the wealthy Spanish region.
Catalonia, which accounts for 20% of Spain's economic output, has been unable to form a government since a regional election in September due to disagreements between the pro-independence parties which together gained a majority.
The pro-independence movement fractured earlier in January when a minority party in the regional bloc, CUP, said it would not back the business-friendly Mas's bid for another term due to deep political differences over such issues as an independent Catalonia's membership of NATO and the EU.
"I am going to step to one side. I will not offer myself as candidate for (the pro-independence coalition) Junts pel Si for my re-election as president of Catalonia," Mas told a news conference in Barcelona.
Mas, in power since 2010, said he backed the mayor of the Catalan region of Girona, Carles Puigdemont, as his successor.
Following Spain's inconclusive parliamentary election last month, Mas's resignation might now force the country's ruling centre-right Partido Popular and the opposition Socialists to reconsider a grand coalition, which they had earlier ruled out, to stand up to a strong separatist Catalan administration.
Mas said the agreement reached with the CUP would see two of its delegates included in the Catalan parliament with Junts pel Si. The parliament will vote on the new candidate on Sunday.
If the parties fail to agree on a new candidate by Jan. 11, new regional elections will automatically have to be called.
Recommended Reading :
* Catalonia pro-independence party fails to agree on new leader
* Catalonia to pursue split from Spain despite court block