Socialist leader Sanchez hints at non-PP coalition government for Spain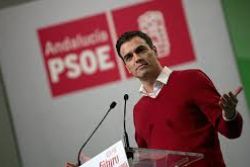 Pedro Sanchez, the leader of the Spanish Socialist Party (PSOE) again implied he would prefer to make a pact with the center-right party Citizens and left wing formation Podemos, rather than the right-wing Peoples Party, to form a coalition government.
The PSOE won 90 seats in the December general election, while the PP won 123, Podemos 69 and Citizens 40.
With the first session of Congress since the election held on Wednesday, there have been calls for a 'grand pact' between PP, PSOE and Citizens to help combat the threat of the Catalan independence movement and to provide political stability.
But speaking on Spanish TV network, RTVE on Thursday, Sanchez said he preferred a "government of change."
The Spanish people voted for "change" on December 20, he insisted, adding that the change they wanted was "a progressive government" prepared to "dialogue," and as such the PSOE would "stretch its hand out to both the left and the right."
Sanchez said a pact with Podemos and Citizens would be balanced as Podemos shared "a social agenda" with the PSOE, while Citizens had the same "agenda for democratic regeneration."
He also said that Podemos' voters "would not understand if there failed to be a progressive government" in Spain after the election results.
That didn't stop him criticizing Podemos leader, Pablo Iglesias, who had criticized the pact the PSOE reached with the PP and Citizens in order to see Socialist, Patxi Lopez elected as Speaker of the Congress.
"It had a bit of the reaction of a small child, who gets angry if they don't get their way," he commented, saying the way ahead was "dialogue and not blackmail."
Recommended Reading :
* Spain's Socialist leader rules out pact with right
* Rajoy : "I will be the PP candidate if new elections are held