Spain's king to meet political leaders amid deadlock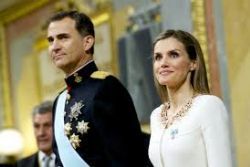 Spain's King Felipe will meet leaders of political parties throughout next week in an attempt to help break the political impasse after last month's inconclusive national election, the palace announced on Friday.
Although Spain is a constitutional monarchy and the king is a ceremonial figure, he also has a role as a facilitator. The country has had only an acting government since the Dec. 20 election.
From Monday, the king will hold individual consultations at the Zarzuela Palace with the leaders of the 15 parties represented in parliament, starting with small regional parties, the palace said in a statement.
The process will culminate on Friday, when Acting PM Mariano Rajoy of the Partido Popular, Pedro Sanchez of thePSOE, and Pablo Iglesias of the new left-wing party Podemos will discuss the situation with him.
The king is then expected to propose a candidate for PM.
The fragmented election has thrust Spain into a situation unprecedented in the four decades since the return of democracy.
Rajoy's PP, which ruled for the past four years, won most seats but failed to gain an outright majority. The PSOE came second but also with greatly reduced support.
Two new parties, the anti-austerity Podemos and the centrist Ciudadanos, attracted a new generation of voters disillusioned with the old elite, breaking the traditional mould.
Rajoy has called for a "Grand Coalition" of the PP, PSOE and Ciuadadanos to maintain stability and confront a separatist challenge from the Catalonia region. The PP aims to hold a first vote on its proposal for a government by the end of January.
The PSOE wants a coalition of the left with Podemos, but that idea is complicated by Podemos's support for a referendum on Catalonian independence, which Sanchez rejects.
Many analysts believe a rerun of the election is inevitable.
In his Christmas Eve message just days after the election, King Felipe appealed for dialogue and unity among Spaniards.
"What should matter to all, first and foremost, is Spain and the general interest of the Spanish people," he said then.
The crisis provides a test for Felipe, at 47 the world's third-youngest monarch, 18 months after he took over the throne when his father Juan Carlos abdicated.
Juan Carlos had been popular among Spaniards for his role in the transition from dictatorship to democracy, notably for standing against an attempted military coup in 1981.
But his popularity waned due to his perceived extravagance and scandals involving his family while Spaniards suffered a harsh recession.
Felipe's performance has boosted the standing of the monarchy again.
Recommended Reading :
* New Catalan Premier ignores King and Constitution as he takes oath
* Spain's Podemos urges Royal family to cancel Riyadh visit