Castellon Airport set to exceed 100,000 passengers in 2016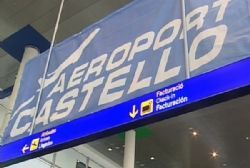 Castellón Airport is set to surpass 100,000 passengers in 2016 - its first full year of operation.
The establishment of Ryanair's two twice-weekly routes from Bristol and Stansted alone promises to provide 65,000 passengers, whilst Romania's Blue Air connection to Bucharest to set to fly 35,000.
Furthermore, many charter flights looks set to add to this number, with football clubs such as FC Barcelona and FC Villareal using the facility.
In its first full year of operation (the first scheduled flight landed on 15 September), Castellón is on course to attract more visitors than 16 airports in the AENA group of Airports, including 9 Provisional capital cities : Huesca, Albacete, Cordoba, Burgos Vitoria, Logroño, Badajoz, Salamanca and Leon.
The Operator of Castellon Airport - SNC Lavalin - is also believed to have routes to Germany and Russia in mind for later in 2016.
Recommended Reading :
* Ryanair encouraged by popularity of Castellon Airport
* More routes to Spain's Castellon Airport