Four Brits arrested over pub-fight death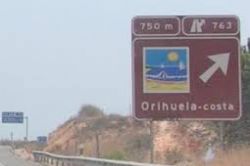 A British man was reportedly stabbed to death with a broken bottle at a sports bar in Spain. Four other Britons have been arrested in connection with the crime.
The victim, who has not been named, was attacked in the early hours of Saturday morning in the Villamartin Plaza in the Orihuela Costa resort in the south of Alicante.
He was stabbed in the neck, throat, face and thorax, according to The Leader, an English-speaking newspaper based in the Costa Blanca.
Officers from the Guardia Civil saw a car driving away from the scene without its lights on and gave chase, a spokesman told the paper. After a short pursuit, they stopped the car.
"We can confirm the death of a British national in Alicante, Spain on January 16," a Foreign Office spokeswoman said. "We are in contact with the local authorities and stand ready to provide consular assistance to the family at this difficult time."
She also confirmed that four British nationals had been arrested, adding: "We stand ready to offer consular assistance."
The attack left one local restaurant owner "afraid and angry".
"It is scary, it is foolish and I do not like that," he said. "I have been here for three years and we have never had trouble – it is a nice place."
Another person who works in the area said the bar was like any other.
"Sometimes there are fights, but some people when they drink they cannot control themselves," she said.
Recommended Reading :
* British Expat couple shot dead in Alicante
* Brit Paedophile murderer in Spain : Update