Barclays invites bids for Iberian credit card business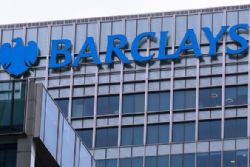 Barclays is selling its credit card operations in Spain and Portugal, and Spanish bank Santander and U.S. private equity firm Apollo are among the interested parties, according to four sources familiar with the matter.
The British bank is over halfway through a three-year turnaround plan to improve returns and cut costs. It has already sold its retail and corporate banking divisions in Spain and Portugal as part of a drive to shrink its continental European business and focus on more profitable operations in Britain, the United States and Africa.
It is now bundling the Spanish and Portuguese Barclaycard operations together for a sale and has solicited non-binding offers for the combined business ahead of a Jan. 19 deadline, hoping to finalize a deal by the end of March, said the sources.
Spanish banks Santander, Bankinter and Banco Popular, as well as Apollo, have expressed their interest and are considering making bids, according to the sources, who spoke on condition of anonymity as the process is private.
Barclays, Santander, Bankinter, Banco Popular and Apollo all declined to comment.
The Iberian Barclaycard portfolio could sell for between EU300 - EU600 Mln, according to two of the sources.
Barclaycard in Spain has around 250,000 customers, representing a 6% market share in the sector, according to Barclays. In Portugal it has over 460,000 clients - or around a 20% share, according to a 2014 study by Marktest that put the number of credit cards users in the country at 2.4 million.
The British bank sold its retail and corporate banking operations in Spain to Caixabank in 2014, and sold those same divisions in Portugal to Bankinter in September last year. As well as the credit card businesses, it retained its investment banking operations in the two countries.
Barclays Chairman John McFarlane, who arrived last April, has been seeking to accelerate the restructuring plan at the company which, like other European banks, has seen its profitability hit by tough regulation following the financial crisis and sluggish economic growth in the region.
Last July, McFarlane fired the then-Chief Executive Antony Jenkins, who had lost the support of non-executive directors in a clash over style and the pace of the bank's turnaround. Jes Staley took over as chief executive last month.
Barclays has also sold its retail banking operations in Italy and is looking to sell assets in France.
Recommended Reading :
* Spain hires Barclays to advise on listing of rescued Bank BMN
* Caixabank considers offer for Barclays Spain