Argentine court triggers search for Franco-era victims in Spain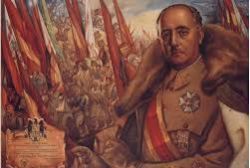 Spanish campaigners dug up a mass grave on Tuesday in a search for victims of the country's civil war and the fascist dictatorship it put in place, as an Argentine court puts pressure on Spain to confront its troubled past.
The exhumation, expected to last several days, is the first agreed to by a Spanish court at the behest of the Argentine investigators.
Hundreds of Spaniards turned to the Argentine court two years ago for help in uncovering crimes committed during the 1936-1939 civil war and the subsequent 36-year dictatorship of General Francisco Franco, by using an international human rights law.
On the edge of a cemetery in Guadalajara, some 50 km from Madrid, volunteers dug open a grave believed to hold 22 or 23 bodies after a campaign by 90-year-old Ascension Mendieta, who is seeking her father's remains.
"I'm overwhelmed by all this, but I know we're going to get there and get what we wanted," she told Reuters TV. "After this I can die in peace."
Her father Timoteo, who fought against Franco's forces, is believed to have been shot amid reprisals after the war ended.
Hundreds of thousands of people died during the conflict, with atrocities committed on both sides. The victors under Franco went on to execute thousands of people after the war, according to British historian Paul Preston's book "The Spanish Holocaust".
Forty years after Franco's death, the Argentine-led investigation into possible crimes against humanity during his rule could revive a movement to confront Spain's past, which gained prominence after the Socialists came to power in 2004.
A historical memory association, which helped with the dig in Guadalajara, has carried out several exhumations in recent years at the request of families. But building legal cases in Spain has been impossible. The country passed an amnesty law in 1977 which pardoned the crimes of the Franco government.
Campaigners hope the latest exhumation could open the door to more under the court's investigation, said Ana Messuti, a lawyer working with the relatives of Spanish victims in the Argentine case.
So far, the investigation has met with mixed success, after a Spanish court last year rejected an Argentine judge's request to arrest and extradite 20 former Spanish officials.
For Spaniards born since the country's return to democracy after Franco's death, the civil war divisions and stories still resonate, even as many turn to new political alternatives that represent a break with transition-era forces.
Elena Garcia, Mendieta's 21-year-old grand-daughter, called on authorities to do more to locate and deal with mass graves, arguing such efforts were long overdue.
Many say they simply want to give their relatives proper burials, even decades later. For others, the push for exhumations is an unwelcome way of reviving old wounds.
"The political class should learn from everything my grandmother has suffered, from the fight she has had to go through," said Garcia, who also watched the dig. "This can't stay this way, and there are so many people to find yet."
Recommended Reading :
* Spain remembers dictator Franco and his victims
* MOre than 100,000 people remain missing in Spain