Madrid to ban cars from center if pollution reaches critical levels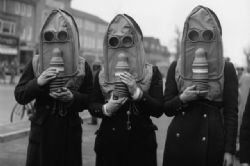 The city of Madrid has approved a stringent new protocol to deal with high pollution levels.
In a worst-case scenario of persisting and acute air contamination, city officials could ban all vehicles from entering the downtown area contained within the M-30 ringroad.
The rules, which the city council will debate next week, are set to go into force on February 1.
The original protocol was designed by the previous conservative administration of Ana Botella, but has been toughened up by the current government led by Manuela Carmena, of the leftist coalition Ahora Madrid, due to the persistently high pollution levels in the city.
Residents of the Spanish capital are already familiar with the effects of the air-improvement plan after drivers were instructed to observe 70km/h speed limits on the M-30 and other access roads on several occasions last fall.
Additionally, parking in downtown metered areas was banned altogether for a couple of days – with exceptions made for delivery trucks, ambulances, taxis and local residents with parking permits.
Under the new rules, exceptionally high pollution levels could lead authorities to ban the circulation of vehicles within this area altogether. Another scenario contemplates a system of allowing cars on roads alternately depending on whether their license plates are odd- or even-numbered.
Madrid has been exceeding the nitrogen dioxide (NO2) threshold set by the European Union since the creation of the monitoring system in 2010. Besides the serious health issues raised, the city could also face a hefty fine from Brussels if it fails to address the problem.
Nitrogen dioxide, which originates chiefly in diesel engine emissions, had been decreasing in Madrid for a couple of years, then spiked again in 2015 due to a rise in traffic (itself, presumably, the effect of Spain's improving economy).
Madrid is divided into five areas. The biggest pollution problems are in the 41km2 contained within the M-30 ringroad, an area that is home to 1.1 million people.
The EU established a single alert level of 400 micrograms of NO2 per cubic meter, for two straight hours, at three separate measurement stations. These conditions have never been seen before in Madrid.
Former Mayor Botella created two other levels that come before this one – warning (250 micrograms) and pre-warning (200 micrograms). Under the new rules, there are four possible scenarios of escalating gravity. The first and second ones have already been implemented with the speed limits and parking bans.
Scenarios 3 and 4 have not been invoked yet, and would involve banning road traffic depending on the car plates, or even altogether.
Recommended Reading :
* Madrid bans use of parking meters due to pollution
* Study into Spain's taxi fares