Rising lending drives profit jump at Spain's Bankinter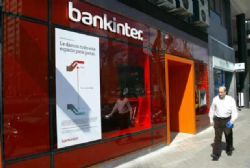 Mid-sized Spanish lender Bankinter on Thursday posted a 36% jump in net profit for 2015, helped by rising lending income and a drop in bad loan charges which is likely to help domestic rivals deliver better results too.
Spanish banks have bounced back from a deep crisis triggered by a 2008 property collapse and an ensuing double-dip recession, and many are hoping to build on that turnaround by lending more to businesses and consumers this year.
Bankinter said its net interest income (NII), a measure of earnings on loans minus deposit costs, rose 15% on the year to EU870 Mln, while its lending to clients rose 4%.
Net profit for 2015 was EU376 Mln, slightly above the EU371 Mln expected in a Reuters poll and its best ever yearly result, the bank said.
Bankinter, Spain's sixth-biggest bank by market value, has long been something of an anomaly within the country's banking sector, however, with a stronger focus on wealthy clients and insurance than many peers.
Its conservative approach helped it steer clear of much of the real estate lending that tripped up rivals, and its bad loans ratio, which fell in 2015 to 4.1% of its total credit, is far below the sector average of 10.4%.
Rivals are also benefiting from falling charges against troubled loans, which will help their bottom line. Bigger peers Santander and Caixabank are due to report results next week.
But historically low interest rates in the euro zone are becoming a growing headache for many, putting pressure on loan margins as competition to lend in Spain also pushes down the cost of credit.
The struggle to lift profitability is widely expected to lead to a round of mergers among Spanish banks as of this year.
At Bankinter, NII grew 2.5% quarter-on-quarter in the last three months of 2015, with a drop in deposit costs for now outpacing the falling returns on its loans.
Bankinter shares were up 1.3 percent at 0817 GMT.
Recommended Reading :
* Spain's bad loans ratio falls to 10.35% in Nov