Spain's Socialists tell Rajoy to form government or move aside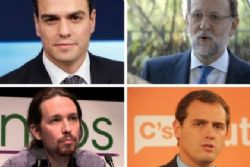 Spain's Socialists told the centre-right Partido Popular on Saturday to form a government or move aside, as politicians jostled for power more than a month after inconclusive elections.
The PP won the most votes, but not enough to rule alone and has failed to form an alliance, trading accusations of stalling and delays with the second-place Socialists and the new anti-austerity Podemos party.
Four weeks of post-election manoeuvring has left the country little closer to getting a government, fuelling uncertainty that could be damaging for Spain's economic recovery in the long run as key reforms are put on the backburner.
"We believe that (acting PM Mariano Rajoy of the PP) is obliged ... to present himself as the candidate to be invested or to renounce his right to do so for good," the Socialists said on their website.
They said Rajoy's "wait-and-see" stance was irresponsible and a ploy to ensure his political survival.
Rajoy deferred a decision on Friday to bring matters to a head and seek a confidence vote in parliament, saying that for now he did not have enough backing.
On paper, that could smooth the way for a left-wing coalition after Podemos offered its backing to the Socialists on Friday.
But Rajoy's move also heaps pressure on Socialist leader Pedro Sanchez to try and form a government while he is still not sure of succeeding and before the PP is firmly out of the picture, a conundrum he is now seeking to avoid.
Podemos leader Pablo Iglesias' angered many leading Socialists by suggesting he should serve as deputy prime minister and putting forward a proposal for the formation of a cabinet, before the parties had held any talks.
"It's the first time in my life that I've heard (anyone) offer a deal to form a government that seriously insults the party you want to make a pact with," the Socialists' last leader Alfredo Perez Rubalcaba said on Facebook.
Once a candidate seeks the confidence of parliament a two-month deadline for the formation of a government comes into effect. A failure to reach a deal within this limit would lead to a new national election, potentially in May.
"DIGNITY"
Rajoy has been pushing for a German-style 'grand coalition' with the Socialists and the new pro-market Ciudadanos party, with little success.
On Saturday he sought to exploit friction within the Socialist Party by saying it would be indebted to Podemos if the two tried to form a government.
"To be the Spanish PM, it's not good enough to get there through being mortgaged (to Podemos) or by humiliating yourself, we need a prime minister with dignity," Rajoy told PP supporters at an event in Cordoba, southern Spain.
He also had a dig at the Socialists' current leader Pedro Sanchez for shunning dialogue with the PP.
As recriminations fly between parties, leaders of all leanings are increasingly defending their attempts to break the political gridlock.
Spain's political landscape was splintered like never before in the December ballot amid the rise of Podemos and Ciudadanos, two parties that had no seats four years ago.
An economic crisis and frustration over high-level corruption scandals fuelled their success, even as Spain returned to growth under the PP government.
The Socialists, Podemos and former communists Izquierda Unida have a combined 161 seats, leaving them still short of a majority in the 350-seat parliament and meaning they would need to woo regional parties for backing to govern.
The Socialists, however, have opposed allowing Catalonia to hold a referendum on secession, and this could remain a sticking point as it fights to forge pacts.
Parties are due to resume talks with King Felipe on Jan. 27 on forming a new government.
Recommended Reading :
* Spain's Rajoy still pushing for alliance with Socialists
* PSOE to negotiate with Podemos if Rajoy's PM bid fails