Further investment in Murcia's San Javier Airport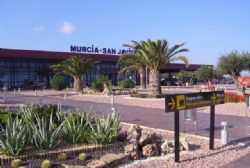 With still no opening date for Corvera International Airport, Spain's publicly owned Airports operator - AENA - has launched a proposal to refurbish Murcia's San Javier Aiport.
The smaller, older airport - owned and operated by AENA - must close as a civilian airport if and when the newer, privately owned, Corvera Airport is to open.
AENA sources report that EU130,000 will be spent in the coming months - notably on 'essential maintenance', and works to include the replacement of the flooring, doors, furniture of the arrivals area at San Javier Airport.
In recent months AENA has also undertaken certain other "small" projects at the facility, including that of fixing potholes on the main runway, and instrumentation for security and air traffic control.
Over the past 20 years AENA has invested over EU75 Mln at San Javier Airport, which includes the construction of the second runway, a new control tower and an enlargement of the departure area of ​​the passenger terminal, together with the Aircraft parking apron.
Why commit to spending more money on an Airport which, by all admissions "must close in 2017" anyway ?
Recommended Reading :
* Murcia's San Javier Airport not to close imminently