Spain's Ciudadanos'opposes any government, involving Podemos'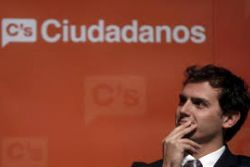 Spain's centrist Ciudadanos party said it would oppose any government that included the anti-austerity Podemos, complicating any attempt by the Socialists to form a government with leftist allies to break the election deadlock.
Parties on the right and left have been jockeying for power in the month since the vote, though none is yet in a position to cement an alliance after the political landscape fragmented at the ballot box.
Chances of a leftist coalition improved last week as acting PM Mariano Rajoy, who wants a grand coalition of centre-left and centre-right forces, admitted on Friday he did not yet have backing to seek a confidence vote from parliament after meeting King Felipe.
Rajoy's decision came after Podemos leader Pablo Iglesias said he was willing to soften his red lines to negotiate a pact with the second-placed Socialists, but any possible agreement is still not a certainty given the two need more support.
Ciudadanos leader Albert Rivera said his fourth-placed party would not abstain in a confidence vote to allow a coalition of the Socialists and Podemos and prevent another term for Rajoy's ruling Partido Popular.
Rivera said Podemos's reliance on nationalist regional allies and its past promise of an independence referendum in the Catalonia region threatened Spain's unity and economy, and he called for the other three main parties to join together.
"We are not willing put the Spanish economy in the hands of Podemos, who follow the example of Greece," Rivera told a news conference, referring to the anti-austerity Syriza government which wrestled with Brussels over an international bailout.
Without Ciudadanos' support, Socialist leader Pedro Sanchez would need to agree pacts with several nationalist and pro-independence parties from the Basque Country and Catalonia to gain a majority in the 350-seat parliament, which may draw a harsh reaction from members of his own party.
The king will start the next round of discussions on a government with parties on Wednesday but neither the PP nor the Socialists yet have enough support to guarantee their success in leading a coalition, putting them at a potential disadvantage if they seek a confidence vote first.
Once a candidate seeks the confidence of parliament, a two-month deadline for the formation of a government comes into effect. After that, new elections would be triggered.
The logjam in forming a new government has also started to concern the European Commission, which is likely to warn next month that if problems continue Spain's economic recovery could be under threat, a draft report showed on Monday.
Recommended Reading :
* Rajoy will seek support of Ciudadanos and Socialists to form Gov't
* Spain's Socialists tell Rajoy to form Gov't or move aside