Spain's parties to discuss new government with king next week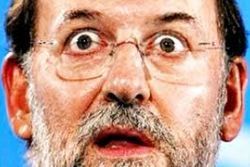 Spain's four main party leaders will meet King Felipe for a second time next Monday and Tuesday to see whether any of them can muster enough support to form a government and break a six-week election deadlock, the palace said.
Parties on the right and left have been jockeying for power in the month since the Dec. 20 vote, though none is yet in a position to cement an alliance after the political landscape fragmented at the ballot box.
The parties held their first consultations with the king last week. Acting PM Mariano Rajoy, who wants his ruling center-right Partido Popular to form a 'grand coalition' including the center-left Socialists, admitted after meeting the king last Friday that he did not yet have enough backing to seek a parliamentary confidence vote.
In a statement on Tuesday, the palace said the king would meet Spain's two newcomer parties, the centrist Ciudadanos and the anti-austerity Podemos, on Monday, Feb. 1. He will then meet the PP and the second-placed Socialist Party on Tuesday, Feb. 2.
Once a candidate seeks the confidence of parliament, a two-month deadline for the formation of a government comes into effect. After that, a new election would be triggered.
But there is no time limit for a party leader to seek a confidence vote, meaning the stalemate could continue until either Rajoy or Socialist leader Pedro Sanchez believe they have enough support to guarantee success in leading a coalition.
Chances of a leftist coalition have improved since Podemos leader Pablo Iglesias said on Friday he was willing to soften his red lines to negotiate a pact with the Socialists.
However, any possible deal is still not a certainty, given the Socialists' Sanchez would need to agree pacts with several nationalist and pro-independence parties from the Basque region and Catalonia to gain a majority in the 350-seat parliament.
Podemos pounced on news that an anti-corruption operation in Valencia on Tuesday had arrested 24 people, many linked to the PP, by warning the Socialists against forming a grand coalition.
"Anybody that talks about political regeneration cannot enter into agreements with the PP since they would be complicit in future corruption cases," Podemos's number two Inigo Errejon said in parliament.
Recommended Reading ;
* Major Spanish political corruption raid in Valencia nets 24 arrests
* Spain's Ciudadanos opposes any Gov't involving POdemos