Supreme Court orders Bankia to refund investors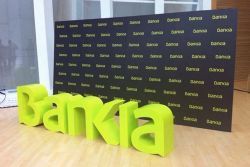 In a decision that could affect tens of thousands of small investors in Spain, the Supreme Court has ruled that Spanish lender Bankia has to return the money spent by two citizens on preferred shares.
The ruling is based on the fact that the brochure advertising the bank's stock market launch contained "serious inaccuracies" regarding the true state of the lender's finances.
Bankia was taken over by the government's Orderly Bank Restructuring Fund (FROB) in May 2012, less than a year after listing on the stock exchange.
The bank came unstuck because of its overexposure to the ailing real estate sector. Before being taken over, the group initially reported a profit for 2011. However, after it was nationalized, its accounts were revised and the state had to inject over €22 billion to shore up its balance sheet, with the bank receiving the bulk of the European bailout.
The Supreme Court's decision affects two plaintiffs who invested €9,997 and €20,868 respectively, but it also paves the way for other investors who lost money on preferred shares.
Holders of these complex financial instruments made huge losses on their investments and many filed lawsuits seeking to recover their money. The government also opened an arbitration process at Bankia to determine if unsophisticated customers were mis-sold these products. Money-back claims now total €819.2 million.
Aware that it has been losing most of the lawsuits brought by angry customers, Bankia has already put aside over €1.8 billion for this contingency.
Bankia is the result of the merger of seven savings banks, including Caja Madrid. Rodrigo Rato, a former Popular Party government official who headed both Caja Madrid and Bankia, is currently the target of several criminal investigations in connection with his tenure at both lenders.
Recommended Reading :
* Madrid Court freezes assets of former IMF chief Rato
* Rato accused of giving children EU25 Mln to avoid bond