Spain slides in global corruption rankings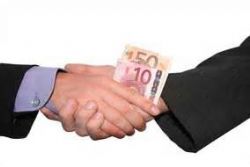 Spain's standing in a global corruption index has fallen the heaviest of all EU states, according to Euronews analysis of official data.
Experts say Madrid's 10% plunge (to 58 points) in Transparency International's (TI) Corruption Perceptions Index over the last 4 years is linked to the financial crisis and subsequent austerity measures.
The index ranks countries out of 100; the lower the score the higher the impression of public sector corruption.
Yet Greece, also hit hard by the financial crisis, saw its standing improve by nearly 30%, albeit from a low starting point.
Scandinavia again dominated the upper echelons of EU standings despite some high-profile corruption scandals.
Hungary meanwhile bucked a generally improving trend in central and eastern Europe.
The EU and western Europe region had the best average score (67) globally, with sub-Saharan Africa the lowest with 33.
TI says its index is the most widely-used global corruption indicator and that it is composed using a "combination of surveys and assessments of corruption, collected by a variety of reputable institutions".
Spain's slide
Spain has slipped 10.77% in its score, according to Euronews analysis, dropping from 65 points in 2012 to 58 last year.
"I don't think it's a surprise to anyone that there's been a number of revelations about corruption in Spain since the banking and financial crisis hit the country three or four years ago," Carl Dolan, director of TI's EU office told Euronews. "I think what is interesting about those revelations is that it shows how systemic and how all aspects of governance in Spain has been hit by these scandals.
"The figures are there in black and white, it's a fairly dramatic decline for a country that routinely was in the top 20 of the corruption index before the financial crisis."
Examples include: the arrest on Tuesday, January 26, of ten people in the Spanish region of Valencia, including the former president of the People's Party, amid a probe into an alleged corruption network; and the alleged scandal around former People's Party treasurer Luis Bárcenas, who is accused of making secret cash payments to senior party figures, using a fund of donations from businesses.
Greece, however has been the most improved EU state, leaping 27.78 points. It jumped from 36 in 2012 to 46 last year.
This would suggest the financial crisis has not had the same negative effect it has seemingly had in Spain.
"In contrast to Spain what we're seeing in Greece is serious attempts by the parties there to get to grips with the corruption problem. There's been lots of investigations into corruption, particularly in the defence sector."
Recommended Reading :
* Major Spanish political corruption raid in Valencia nets 24 arrests
* Spain Police raid offices of public water company, arrest 13