Earthquake hits Andalucia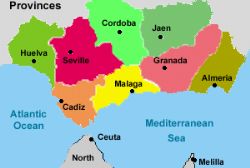 A Seismic activity measuring some 4.5 on the MMS (Moment Magnitude Scale) was measured off the eastern Coast of Spain earlier on Sunday afternoon.
The Earthquake was recorded at 16:25 approximately 5kms at sea off the coast between Granada and Almeria.
Whilst there are currently no reports of significant damage to persons or property, Spain's National Geographic Institute (IGN) reports that the activity was felt by many local residents on land.
Over 2 dozen such events have been recorded in the area over the last 7 days - which qualifies this activity as 'an Earthquake Swarm' - with some reaching as high as 6.3.
The area is no stranger to seismic activity, being located on the point where the Eurasian and North African tectonic plates meet.
Recommended Reading :
* Earthquakes hit Southern Spain
* Lorca Earthquakes 4 year anniversary