Bad debt drop lifts Spain's Bankia, legal bill looms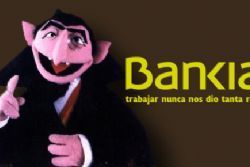 Falling bad debt charges enabled Spain's bailed-out Bankia to post a near 40% rise in net profit for 2015, although a rising legal bill linked to its troubled flotation is clouding its outlook.
Bankia, which has steadily improved profits in the past three years, is entering a key phase for its return to private hands. Madrid, which owns 64% of the bank, vowed to sell off Bankia by the end of 2017.
Its progress so far in shaking off some of its past problems has been mixed, however, and Bankia will now have to contend with an uncertain political backdrop after an inconclusive general election that has yet to result in a government.
Falling charges against soured debts as Spain's economy rebounded helped Bankia post better-than-expected earnings, with net profit of EU1.04 Bln for the full year.
"Asset quality trends stand as the main highlight of this set of numbers," Andrea Unzueta, analyst at Credit Suisse, said in a note to clients.
On the back of improving earnings, Bankia wants to lift its dividend payments for 2015 by 50% - helping the state, which had to inject more than EU22 Bln into the bank, recover funds.
Shares in Bankia were up 7% to 0.978 Euros at 0943GMT.
But the bank had to book extra provisions against potential legal claims from small investors who lost money in its stock market flotation from mid-2011, causing it to miss its profitability target.
Bankia's return on equity (ROE) came in at 9% in Q4, lower than its 10% goal. Without the legal provisions, ROE would have been 10.6%, Bankia said.
SHARES IN THE SPOTLIGHT
The bank's share price is also down some 18% on the year, as investors fret about the impact of low interest rates.
At below EU1.35 per share, the state cannot exit Bankia at a profit. Volatile global stock markets, which caused Britain to recently postpone a planned share sale in bailed-out Lloyds Banking Group, are an additional headwind.
Bankia bounced back quickly from huge losses on dud property assets after these were transferred to an external "bad bank" backed by the state. It also cut costs and tried to shift more of its lending to small businesses and away from mortgages.
But thousands of ordinary Spaniards who bought into the bank's listing a year before its bailout are still pursuing it through the courts, arguing they were misled.
Bankia and its parent BFA have so far set aside EU1.84 Bln between them to cover potential compensation.
Recommended Reading :
* Supreme Court orders Bankia to refund investors
* Spain's Bankia plans sale of real estate portfolio worth EU48 Bln