Spain's Rat-Throwing Fiesta Slammed by Animal Rights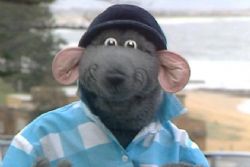 Pity the poor rats. No, really.
At least the much-maligned rodents of the Spanish town of El Puig which has celebrated a "Battle of the Rats" festival for centuries.
Animal-rights activists are taking umbrage with the curious celebration in which participants gather to chuck dead rats at each other.
Taking place at the top of the year, during the feast day of San Pedro Nolasco, people gather in the small town north of Valencia, to bash cucañas – a kind of piñata. The odd part is that the cucañas are filled not just with sweets but also with not-so-sweet dead, frozen rats.
Festival goers race to snatch up the rodents when they fall to the ground and fling them at one another.
In an answer to animal-rights objectors, it should be noted that celebrants only use the previously-prepared corpses of rats that have been killed "humanely."
Originally, cucañas were filled exclusively with nuts, beans and fruit, which attracted the rats. So on the day of the fiesta, the rats would come pouring out along with the goodies. In a major feat of lemonade-making, the people of El Puig turned the presence of live rats eating their goodies into a yearly festival of dead rat tossing.
Remember Spain is the same country that has local festivals like the running of the bulls in Pamplona and other cities, La Tomatina – the tomato fight in Buñol – and the lesser-known "baby jumping" festival in Castrillo de Murcia, in which people dress like the devil and race at full speed to leap over recently-born infants.
In days before animal-rights groups made their voices heard, another fiesta in Valencia called "trenca dels perols," or the breaking of the pots, people would pull hold clay pots up with a rope, while participants would work to bash open the pot with a stick. Some of the pots contained candy, others dead rats or even live ones. The local government put an end to allowing any rats inside the pots, calling the custom a violation of animal-cruelty laws.
Ana Angresola, a local gift-shop owner in El Puig, told the Wall Street Journal, that she did a brisk business last January selling stuffed rats displayed around a clay pot in a distinctively El Puigian tableau.
"Someday they may not let us have the real thing, and this will be all that's left," she told the Journal.
Recommended Reading :
* Valencia town votes against fiestas with Bulls at local referendum
* 13,000 Bulls killed for Sport in Spain each year