Spain may compensate Bankia shareholders after flotation fraud claims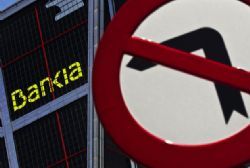 Spain is considering compensating more than 300,000 small shareholders in lender Bankia over allegations of fraud after they bought into the bank's listing a year before it was nationalised, the deputy economy minister said on Friday.
Minority shareholders, mostly Spaniards, sued Bankia for around EU830 after their shares plummeted in value following its bailout in 2012 at the height of the euro zone debt crisis.
Last week, Spain's Supreme Court threw out two appeals by Bankia against such claims, leaving the door open to thousands of individual lawsuits against the bank.
Deputy Economy Minister Iñigo Fernandez de Mesa told national radio his ministry was seriously weighing up a "fast and agile" arbitration between Bankia and minority shareholders, without providing any details of a possible time frame.
A spokeswoman for Bankia said that in the next few days the lender planned to offer a legal solution for minority investors who held 60% of the bank's roughly 3 billion euros of shares after the flotation.
Bankia and its parent company BFA have so far set aside EU1.84 Bln between them to cover potential compensation.
Investors and analysts have questioned whether the buffer will be enough if Bankia's institutional investors also launch lawsuits related to its flotation, given the bank has said legal fees already total around EU500 Mln.
Recommended Reading :
* Bad debt drop lifts Spain's Bankia, legal bull looms
* Supreme Court orders Bankia to refund investors