UK urges Expats to vote in EU exit referendum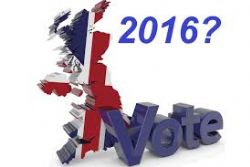 Should the UK leave the European Union ?
What's more, if the UK does part ways with the EU what would the implications be for British Expats resident in Spain ?
Clearly, it is still too early to answer many of the likely questions, however one thing that is clear is that the British Government is making provision for those resident overseas to have their say in any referendum on the subject.
As such the British Embassy in Spain is encouraging all Expats to register for the right to have their voice heard.
Who qualifies ?
UK Nationals who have been registered to vote in the UK within the last 15 years can register as UK electors, to be able to vote in UK Parliamentary elections, UK-wide parliamentary elections, and European parliamentary elections.
How to register
You will need to know your UK National Insurance Number, and have your valid UK Passport to hand. It is still possible to apply if you don't have an NI Number, but the procedure is slightly more complex.
Making the declaration
You need to make a declaration each year to retain your eligibility to make such votes from overseas. So, for example, if you registered to vote in the 2015 UK General Election you will have to re-register your intention to vote in any likely Summer referendum with your local Electoral Registration Officer in the UK, or start the whole process from the beginning.
How to Vote
You have a choice in how to make your opinion count : You can vote by post or by proxy, or for those who may plan on visiting the UK at the time of the referendum, in person at your local polling station.
Recommended Reading :
* 50% fewer Expat Brits consider their move permanent
* Expat retirees miss out on £850 Mln owed to them