PSOE leaves territorial issues to one side in bid to close cross-party deals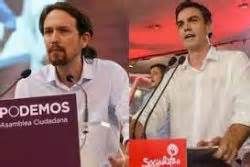 The PSOE is tiptoeing around the Catalan independence issue in its bid to hammer out a government program with other congressional forces that will ensure its secretary general, Pedro Sánchez, becomes the new PM of Spain.
A 53-page document seeking support for Sánchez's investiture bid was made public on Monday and calls on all Spanish parties to show "generosity and a desire for dialogue."
"The nature and scope of the reforms we must undertake will require participation and attention from everyone," reads the document. "Only this will make it possible for the new period opening up before us to extend its effects for decades in benefit of all citizens – those of us who are here today and those who will come after us."
In his effort to build the greatest possible political consensus, Sánchez is reaching out to the emerging parties to his left (Podemos and United Left) and to his right (Ciudadanos).
This effort involves underscoring common views – such as renegotiating Spain's budget deficit targets with Brussels – and underplaying potential sticking points, such as the the Catalan independence movement.
The document presented on Monday "is very consistent with our election program and it also includes proposals from parties that we are going to meet with," said Sánchez during a radio interview.
"We're not about drawing red lines, we have strong beliefs and there is still a lot of leeway for us to find common ground," he added. "I am grateful to the parties that have agreed to meet us, for not exercising vetoes."
The anti-austerity Podemos group has refused to join the multiparty talks as long as Ciudadanos are a part of them. On Monday, Sánchez encouraged Podemos leader Pablo Iglesias to throw aside that caveat.
"He says we have to choose [between them and Ciudadanos], but that's not so. […] It will have to be Pablo Iglesias who decides whether he sits still or increases [acting prime minister Mariano] Rajoy's chances of becoming PM. These are new times in which words have to replace vetoes."
The Socialists defend a new state structure to accommodate regional demands but do not support a referendum on self-rule, as Podemos does. This has been another point of contention between both parties.
The working document merely defends "new policies that will update our political system" in order to "resolve the problems that our autonomous communities, particularly Catalonia, may feel in their participation in our common program and the effective acknowledgment of their singular traits."
There is much clearer agreement on the need to renegotiate EU deficit and public debt targets "that take into account new factors that influence the inability to meet commitments, a flexibilization that has already been agreed to for other countries," reads the text, citing France, Germany and Italy.
The Socialist Party is proposing a "gradual, realistic and balanced" four-year path to fiscal consolidation with a deficit target of around 1% in 2019 and under 3% in 2017, a year behind on current targets.
The Socialists' raft of proposals for a government pact also includes far-reaching constitutional reforms affecting more than 20 articles of the 1978 Constitution, which has been considered mostly untouchable until now. Getting these reforms passed would require a national referendum.
Other priorities on the Socialist agenda include revoking the labor reform introduced by the Partido Popular conservatives, overhauling the tax system and auditing public expenditures to "establish priorities and improve efficiency."
The plan additionally mentions policies to reduce the 20.8% unemployment rate and address the issue of home evictions, which soared during the economic crisis in a country with a home ownership rate of around 80%.
The Socialists, the emerging parties and United Left also see eye to eye on the need to draft new education legislation, reduce value-added tax on cultural goods and services, and scale back all energy projects involving fracking.
Recommended Reading :
* Podemos would overtake PSOE at new elections
* PSOE refuse to bow to Podemos over negotiation demands