Spanish 2016 growth could be less than forecast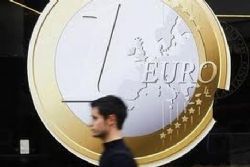 Spain's economy might not grow as much this year as the 2.8% forecast and the new government, when it is formed, should stick to spending cut targets, the central bank chief said on Tuesday.
Bank of Spain Governor Luis Maria Linde said the country's current political vacuum and the uncertainty around global growth and financial market volatility were all potential drags for growth.
"According to most analysts, the Spanish economy is expected to grow on sustained rates over the medium term, and around 2.8% this year according to the consensus," Linde said in a speech to a financial forum in London.
"This rate is well above the euro area average, however, this central scenario is not free of risks."
Spain exited recession in mid-2013, and the economy, fuelled by a consumer spending recovery, has since rebounded to grow at one of the fastest rates in the euro zone.
For 2015 as a whole, growth in Spain reached 3.2% year-on-year, its fastest pace since before a severe downturn began 8 years ago.
Even with the current cocktail of uncertainty hitting sentiment, few see growth dropping below 2.5% this year.
"On the Spanish political front, it is obvious that uncertainty regarding the formation of a new government may affect some investment decisions," Linde added, saying that so far the impact had been limited.
Spain has no settled government nor any sign of getting one, 7 weeks on from an inconclusive election result.
"In any case, it is taken for granted that any new government will show respect towards EU commitments and the framework for the European Union's fiscal governance," Linde said of its fiscal deficit targets.
He said Spanish banks were facing three main areas of pressure - the impact of low interest rates, low activity that is crimping demand, and poorly performing assets.
Europe's banking sector took a drubbing on Monday as expectations build that the ECB will set to take euro zone interest rates as low as -0.4 or -0.5% next month, hurting bank profits even further.
Linde made no comments on what the ECB was likely to do next month. As well as further rate cuts, which remain unpopular with some of the bank's policymakers, analysts also think it could further expand its 1.5 trillion euro bond buying programme.
Recommended Reading :
* EC Forecasts more growth but higher deficit for Spain
* Fitch affirms Spain at BBB+ outlook stable