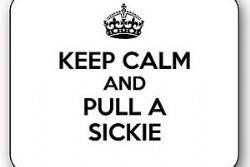 Stereotypes aside, it could only really happen in Spain.
Following a 6-year sickie, a Spanish civil servant has been fined EU25,000 for his oversight.
The last time anyone saw Joaquín García do a lick of work was back in 2010. García, who works for a government operated public utilities provider, decided to stay home; when his paycheck kept arriving, he opted to make it a permanent work-at-home position.
Except he did no work.
According to MSN News : "Officials in Cádiz were preparing to hand Joaquín García an award for long service when inquiries revealed the true extent of his contribution to the local authority."
García had an office in a municipal building, but employees there assumed he was working remotely. Jorge Blas Fernandez, who served as the deputy mayor of Cádiz, a city and port in southwestern Spain, said no one had seen the 69-year-old Joaquín in years.
"We thought the water company was supervising him but that was not the case," Fernandez said. "We found out when we were about to present him with a commemorative plaque for 20 years of service."
Possibly the most absurd part of this story? When officials confronted García and told him he was fired, he informed them that he had already retired. And the most the company could legally reclaim was one year's salary.
According to BBC News, Spanish newspapers have dubbed him "el funcionario fantasma" – the phantom official. García however is appealing the fine, and says he repeatedly showed up to perform work, but there was simply "nothing for him to do" at the wastewater treatment plant. Too, he claims that the media "lynched him" and is a victim of "political bullying." BBC says when García did show up for work, employees said he spent his time "reading philosophy."
As Socrates once said: "How many are the things I can do without!" Work being one of them evidently.
Recommended Reading :
* Spanish 2016 growth could be less than forecast
* EC Forecasts more growth but higher deficit for Spain