Spain likely missed deficit goal in 2015: economy minister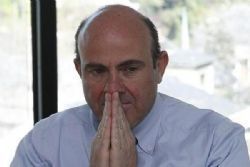 Spain's 2015 public deficit is likely to have missed a target of 4.2% of GDP agreed with the European Commission, and come in around 4.5% according to first estimates, acting Economy Minister Luis de Guindos said on Friday.
Speaking after a meeting of EU finance ministers in Brussels, de Guindos said the final figure would be released in March after more budget data was gathered from Spain's regions.
The European Commission has warned that Spain was likely to exceed its 2015 deficit target, forecasting 4.8% of GDP, and that more spending cuts would be needed in 2016 if the country is to meet its 2.8% goal.
But, as parties scramble to reach concessions to form a coalition government after Dec. 20's inconclusive election, acting PM Mariano Rajoy has said he would be open to asking for flexibility from Brussels on the deficit target.
Rajoy's People's Party (PP) ceded millions of votes to the Socialists and newcomer parties in the election, largely due to their deeply unpopular policy of spending cuts and tax rises aimed at reducing one of Europe's largest budget shortfalls.
Speaking before the meeting, de Guindos told journalists public debt as a percentage of GDP stabilized last year and should soon begin to fall, in line with official forecasts.
Spain's public debt as a ratio to GDP has almost tripled since the start of the economic crisis, jumping from a low of 35.5% at the end of 2007 to 99.3% in Q3 of last year.
"In 2015, for the first time since the beginning of the crisis, the debt-to-GDP ratio stabilized. The data shows that it has stopped growing and is on the point of falling," de Guindos said.
The government expects debt-to-GDP ratio to have risen to 98.7% in 2015 before slipping slightly to 98.5% in 2016, then down to 96.5% for 2017 and 93.2% for 2018.
Recommended Reading :
* EC Forecasts more growth but higher deficit for Spain
* Spanish economy grew 3.2% in 2015