Benidorm TV series appeal for Extras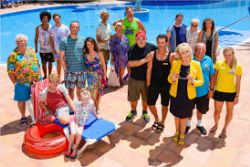 British TV favourite, Benidorm, is launching auditions for Extras to appear in Series 9 of the long-running show.
Casting will take place on Friday the 19th of February between the hours of 10:00 - 13:30 and 16:30 - 19;30 at the Hotel Melia in the town.
Those wishing to be considered are required to be legally resident in Spain, available for filming between March and July, and bring along their NIE and Spanish Social Security number.
The Agency responsible for recruiting the Extras - Mediterranean Audicion - also notes that those who have appeared in the show previously will be particularly welcome.
Interestingly, the casting call goes on to say that whilst people of all ages, sexes, sizes and characteristics are up for consideration, those who are "British Looking" will be favoured.
In such a diverse, cosmopolitan and multi-cultural society as the UK is, it would be interesting for the agency to define what they mean by this.
Recommended Reading :
* Benidorm breaks record for overnight hotel stays
* Landmark Benidorm tower up for sale