Podemos calls for Catalan referendum at beginning of new term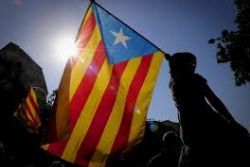 With political stalemate still reigning in the wake of the inconclusive December 20 general election in Spain, the leader of anti-austerity group Podemos, Pablo Iglesias, sent a document to the Socialist Party (PSOE) on Monday calling for a referendum on Catalan independence should the two parties go into a coalition government.
As part of ongoing cross-party negotiations, the counter-offer sent by Podemos states that "urgent charges" are needed in government restructuring. The paper also describes the role Iglesias should have as deputy prime minister, including supervising the Center for Sociological Research (CIS), the National Intelligence Center (CNI) and official BOE state gazette.
"A coalition government with Pedro Sánchez as prime minister and Pablo Iglesias as deputy prime minister would provide for a checks and balances system […]," reads the text. "In other words a guarantee that the days of steam rolling and governments that refuse to answer up to their policies are over in our country."
Podemos also reiterated its desire to control 15 of Spain's ministries.
But the biggest demand in the Podemos document is the call for a Catalan referendum within the first years of the new term, a vote that would be organized through a new ministry for plural nationalities.
"The proposal to develop a plural national state, where all the national regions can develop their government under an equal and cooperative manner without any restrictions, is an obligation for our own identity as a country," the document stated.
Sánchez, who is continuing talks with the leaders of all the political parties before the first investiture session in Congress on March 2, met with Iglesias on February 5 but no agreements on pacts were reached.
However, Sánchez has said that he won't support any type of proposal that could see the break-up of Spain, such as Catalan independence.
The Socialist Party reacted with surprise to the Podemos counter-offer on Monday. "Once more, Mr Iglesias has shown that he doesn't know where he is, nor what role he should be taking," said PSOE spokesperson Antonio Hernando. The politician went on to point out that it is PSOE chief Pedro Sánchez who has been called upon by Spain's King Felipe VI to lead the negotiations to form a government, and not Iglesias. "As such we call on Mr Iglesias to abandon this role, which is not his to take, and it is now the moment to take advantage of this opportunity if he really wants to get on board with change and support a progressive government of reform."
Recommended Reading :
* New Catalan Premier admits he lacks backing to declare independence
* Catalonia to pursue split from Spain despite court block