Catalonia puzzle weighs on Spain's political pacts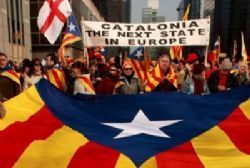 A cartoon in the Catalan newspaper La Vanguardia sums up the state of play in the prolonged struggle to form a Spanish government.
A construction site worker brandishes a big metal panel in the shape of Catalonia and asks his boss where he should mount it, only to be told to leave that particular piece until last.
"As you wish," he says. "But I'm warning you - it's very big and we won't know where to put it."
The question of Catalonia and its surging separatist movement has become pivotal as Spain's political leaders try to thrash out a pact on a government after the most fragmented national election in decades.
The issue is shaping up as a deal-breaker for any left-wing alliance and as a big stumbling block for a "grand coalition" involving the ruling People's Party (PP) and the Socialists, who agree that the region must not become independent but differ hugely on what should be the stance of the central government.
The matter has become ever more pressing as Spain enters its third month in a political vacuum following the Dec. 20 election at a time when pro-secession Catalan authorities are trying to move forward with their so-called "roadmap" to independence.
But parties in Madrid have so far carefully avoided getting deeper into the question.
"They have it in mind but don't give it the attention they should given how important and significant it is," said Agustin Costa, a 47-year-old antique dealer by Barcelona's Gothic cathedral.
Like Costa, many in Catalonia believe the separatist question is used by parties to make political gains but none of them is actually ready to agree on painful compromises and risk a backlash with voters, thus making any coalition deal unlikely.
"Even Podemos, which is in favour of an independence referendum, seems to use this option depending on its political needs of the moment," Costa shrugged as he sheltered under his stall from a drizzle.
The conservative PP, which won most seats in the election but lost its parliamentary majority, passed on its first chance to form a government and now the baton has passed to the Socialists. Their natural allies would have appeared to be the left-wing Podemos but for the Catalan question.
Podemos has dangled the option of supporting a referendum on Catalan independence, a possibility backed by about 80 percent of people in Catalonia.
The Socialists reject this however, with their leader Pedro Sanchez saying he is ready to reform the constitution to better accommodate Catalonia but would not form an alliance with a party that supported the break-up of Spain.
Senior Podemos leaders have since blown hot and cold on the question of a plebiscite - a campaign pledge that helped them score a strong showing in Catalonia - even though the party said it would recommend voting against secession.
"The Socialist Party is not going to accept a referendum on independence," said Miquel Iceta, head of the Socialists' Catalan faction, at its offices in Barcelona.
If Podemos were to back down, it risks provoking internal divisions among its own Catalan contingent.
UNPRECEDENTED DILEMMA
While the separatist movement is still a long way from succeeding in its goals, never before has it played such a role over the formation of a national government.
Not only has the Catalan question become the big hot potato of the talks, but 17 of the 47 Catalan parliamentarians who sit in the national 350-seat lower house are independence supporters - a significant contingent when it comes to coalition-forming.
A Socialist-Podemos alliance, currently seen as Spain's best shot at avoiding a new national election, would for instance need backing or an abstention from Catalonia's two main pro-independence parties to achieve a majority.
Meanwhile, the opposition of those two parties to any combination involving the PP and newcomer party Ciudadanos, both in favour of a tighter control of the central government over regional politics, makes other alternatives unlikely.
A potential three-way pact between the Socialists, Podemos and Ciudadanos, which would have a strong absolute majority, has also been ruled out in great part because they have incompatible views on Catalonia.
But some believe the new splintered political scene could instead provide new opportunities to break the deadlock with Catalonia and defuse the separatist sentiment because it makes it compulsory for several parties to compromise.
The Socialists' Iceta is hoping the party's plan for constitutional reform - which would shake up how regions are financed, redefine their powers in more of a federal system, and recognise some of Catalonia's singularities - can form the basis for talks with parties as well as defuse the separatist push.
There also remains a chance the separatist issue could sow the seeds for a "grand coalition" between the PP, Socialists and Ciudadanos. Even some of the parties at loggerheads on economic policy have common ground in their defence of Spanish unity.
"Any concession over the Catalan question implies a huge political cost for any leader within his party," said Anton Costas, who runs the Circulo de Economia, a powerful business lobby based in Catalonia.
"But the December election has created a new landscape in which it is now possible to give an answer to this question.
Recommended Reading :
* Podemos callas for Catalan referendum at beginning of new term
* Catalonia to pursue split from Spain despite court bloack