Booing at Spain's National Anthem : Not Illegal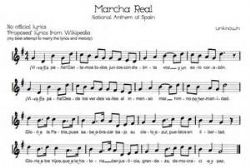 The High Court has dismissed a complaint filed by a citizens' group calling for an investigation into booing and whistling during the Spanish national anthem before last year's King's Cup soccer final, which was held in Barcelona.
Judge Fernando Andreu ruled that there was no crime committed by spectators at Camp Nou, who jeered and whistled while the anthem was playing at the start of the match between Barcelona and Athletic on May 30.
The High Court's public prosecutor was in favor of an investigation, saying that it was an attack on the monarchy and Spain's symbols and emblems. Spain's King Felipe VI was present at the game.
The lawsuit was filed by Manos Limpias, an obscure right-wing labor union that has filed numerous complaints in high-profile public corruption cases, including charges against Princess Cristina for alleged tax fraud in the Nóos Institute case.
In his ruling, which can be appealed, Judge Andreu explained that a similar incident occurred in 2009 during the King's Cup final in Valencia, but at the time the High Court prosecutor believed that no crime was committed and the judge also dismissed the case.
"Freedom of expression is one of the strongest pillars in a democracy," Andreu wrote.
The region in which the game was played, Catalonia, is engaged in a years-long struggle with the central government in Madrid for independence, while the Athletic team finds its home in Bilbao, part of the Basque Country, which has also historically sought to break away from Spain.
Recommended Reading :
* Spanish Government using courts to avoid freedom of information requests
* Spain demands more political transparency