Spain's DGT clamp down on commercial vehicles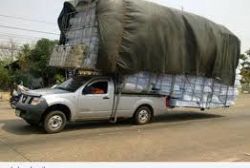 According to the DGT, commerical vehicles are the second most numerous vehicles traveling on Spanish roads, representing 16% of the total and 16% of all accidents.
This, together with the higher fatality rate with accidents of such vehicle types, has seen the DGT run a 1 week campaign between 15th - 21st February.
This past week, the Guardia Civil Traffic Civil Guard has been monitoring vans and trucks with particular regard to observing speed, tachograph regulations, weight restrictions, load safety, insurance documentation, driver suitability, and the working condition of such vehicles.
Last year some 68 people died as a result of an accident involving an HGV on Spanish major roads, whilst a further 59 fatalities occurred with accidents including Vans.
The combined figure extended to beyond 500 when accidents on urban and minor roads were included.
30% of fatalities involved the drivers of these vehicle types not wearing any seatbelt.
The age of the vehicle involved in accident was also seen as a contributing factor, with the average age being greater than 12 years, resulting in the maintenance and safety of the vehicle being called into question.
Vehicle Speed
However, speed was found to be the largest contributing factor behind accidents involving commercial vehicles.
According to articles 48 & 50 of the Spanish Road Safety Act, speeds to be observed by commercial vehicles are as follow :
* Motorways : Trucks, articulated vehicles, vans and cars with trailers up to 750 kilograms can travel up to 90 km/Hr
* Conventional roads : Trucks, tractors, vans, articulated vehicles and cars with trailers are resticted to no more that 80 km/Hr
* Minor roads : Trucks, tractors, vans, articulated vehicles and cars with trailers are restricted to 50 km/Hr
Recommended Reading :
* Spain's DGT report traffic data by each town
* Are you one of the worst drivers in Spain