Former King Juan Carlos of Spain 'Involved in Fraud'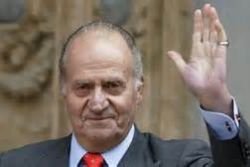 The former business partner of the Spanish princess' husband revealed the royal palace was involved on the fraud and embezzlement case. A main defendant testifies that a lawyer from the Spanish Royal Palace was aware of the illegal activities.
According to Yahoo News, Diego Torres, whom prosecutors says he was used to defraud from the public funds testified on Tuesday. Torres revealed that he and the co-accused, Princess Cristina's husband, Inaki Urdangarin showed the accounts from the non-profit Noos Institute to the former lawyer of King Juan Carlos, Jose Manuel Romero as well as to the tax inspectors. The said institute was set up by the two former business partners.
Torres added that because of it, he said he has no reason to suspect anything was illegal. He also said that the accusation that they are using Princess Cristina as a "tax shield" was not true. Torres claims all the activities had been carried out under the supervision of the legal advisor to the king at that time and the said other high-ranking tax officers.
The Spanish royal couple, Princess Cristina and Inaki Urdangarin, along with his former business partner, Torres were all charged of embezzlement. Ansa Med reported, the two business partners, were accused of embezzling around 8 million euros in public funds.
Urdangarin is also accused of using his royal connections in public contracts in order to avoid competing bids and siphoning off some of the money into Aizoon, a property consultancy firm he owned with Cristina. According to the Local, the court filing stated that the royal couple is suspected of using the embezzled money for their lavish lifestyle including, "work on their mansion in Barcelona, dance lessons and even Harry Potter books, which reduced the firm's taxable profits.
Princess Cristina is charged with two counts of tax fraud and facing a possible eight-year sentence, has denied knowledge of her husband's business activities. King Felipe's sister is also the first member of the royal family to face criminal charges since the monarchy was restored in 1975.
Recommended Reading :
* Spain's Princess Cristina : Innocent ?
* Spain's Princess Cristina returns to court in tax fraud trial