Ciudadanos seeks meeting with PP to request abstention in PM vote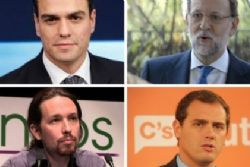 The day after signing a far-reaching government agreement with the Socialists (PSOE), Ciudadanos leader Albert Rivera said on Thursday that he would try to convince the Popular Party (PP) to abstain at next week's investiture vote in Congress in order to help form a government.
Securing an abstention from the PP, which won the December 20 general election with 123 seats – short of a majority – is crucial in keeping the PSOE-Ciudadanos policy agreement alive.
Ciudadanos and the Socialists have 130 deputies between them – not enough for Socialist leader Pedro Sánchez to be voted in as prime minister in the 350-seat lower house.
In a television interview, Rivera said that he would try to set up a meeting with acting PM Mariano Rajoy of the PP to explain the agreement before March 5 – the day of the second investiture vote.
"Many of the things that Mr Rajoy had asked me are included in the document," he said, suggesting that Rajoy "doesn't want anyone" to be allowed to form a government.
The acting PM has been pushing for a grand coalition between the PP, Ciudadanos and the Socialists, but Sánchez has said that he will not form part of any government with Rajoy at the helm.
In a video message, Sánchez on Thursday asked Socialist Party members to approve the pact he signed with Ciudadanos. Socialists are expected to vote Friday and Saturday on the agreement.
"Last December 20, the Socialists made it clear – we said no to Rajoy, no to any other PP candidate, but said yes to opening a period of negotiation so that we could build a progressive and reformist government," Sánchez said.
In an interview with the SER radio network, the Socialist leader said he was not giving up on trying to convince the other parties to join the coalition.
Soon after the agreement was signed between Ciudadanos and the Socialists, Podemos – the third-largest political force – broke off talks with Sánchez. Pablo Iglesias, the leader of Podemos, said the deal was filled with many proposals presented by the PP.
"Yesterday there was an agreement for change and another to block it by the PP and Podemos," Sánchez said.
Recommended Reading :
* Ciudadanos and PSOE sign deal hoping to win cross-party support
* PSOE negotiating deal with Podemos and Ciudadanos simultaneously